Successful South African gaming and leisure brand Sun International selects IFS Applications 8
IFS, the global enterprise applications company, announces that Sun International, one of Africa's leading gaming and leisure brands which is focused on the development, management and operation of casinos, hotels and resorts in South Africa, other parts of Africa as well as in Latin America, has chosen IFS Applications 8™ as its central enterprise resource planning (ERP) system. The solution will be used by more than 10,000 Sun International employees, in 22 properties and will support business-critical processes such as finance, HR, payroll, supply chain, facilities and project management. The contract includes licenses and implementation services worth approximately US$ 5.5 million.
Sun International operates 29 casinos, resorts and luxury hotels across eight countries globally, making it one of the leading and world class brands in the gaming and hospitality industry. Every day, over 50,000 customers from over 50 countries visit Sun International properties. To support and streamline its multi-faceted and geographically dispersed operations, Sun International decided to replace its existing back office systems, which consist of numerous instances of multiple applications, with a centralized, single instance and fully integrated ERP solution.
After a rigorous due diligence and evaluation process involving customer site visits and detailed proof-of-concepts, Sun International chose IFS Applications 8 over competing midmarket ERP solutions amongst SAP, Microsoft and Oracle. The IFS solution, which will be deployed in over 22 properties in 8 countries (i.e. South Africa, Namibia, Zambia, Botswana, Lesotho, Swaziland, Nigeria and Chile), will offer integrated business support, including fully-localized HR and payroll, financials, supply chain, facilities and project management as well as advanced business intelligence and reporting.
"The implementation of the ERP is a strategic initiative which aims to manage business costs through the automation of business processes and consolidation of 15 fragmented business systems into a centralised IFS solution," Sun International Chief Information Officer, Mr. Thabo Ndlela said. "We chose IFS Applications 8 because it provided a better fit to Sun International business requirements, is a configurable service oriented architecture technology, and offers competitive advantage which promises a reduction in back office total cost of ownership."
"We are very pleased to announce this prestigious customer win, involving one of Africa's most respected brands," said Ian Fleming, Managing Director, IFS Middle East, Africa and South Asia. "Localized, flexible multi-site system support delivered through a global organization is one of IFS's distinguishing hallmarks and one which will help Sun International increase user efficiency and business control while reducing IT system sprawl. We look forward to working together with Sun International to consolidate and streamline its operations."
The ERP implementation at Sun International will be jointly delivered with Accenture, a global systems integrator, and is expected to be completed in 2015.
For more Information visit: IFS
Artikel vom 28.10.2013
Seiteninterne Suche auf SoftSelect.de
Anbieter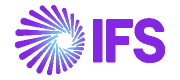 Dieser Artikel wurde veröffentlicht von:
IFS Deutschland GmbH & Co. KG