QAD TMS has enabled Mauser, Europe to standardize their shipment dispatch processes (820 KB)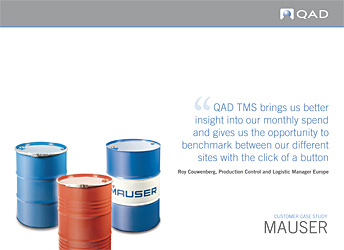 Founded in 1896 by Dr. Alfons Mauser in southern Germany's Black Forest, MAUSER combines more than a century of packaging technology experience with a profound understanding of specific market requirements. In the course of their long history they have frequently initiated patents, inventions and innovations that came from their own research and development laboratories.
Kontext-e GmbHAnwenderbericht (AWB)
Schlagwörter
Seiteninterne Suche auf SoftSelect.de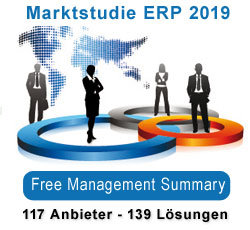 Wir beraten Sie gern!
Bitte zögern Sie nicht, uns mit Fragen jeglicher Art oder Feedback zu kontaktieren:


E-Mail:: info@softselect.de
Telefon:: +49 (0)40 870 875-0
Telefax:: +49 (0)40 870 875-55
Wir freuen uns auf Sie!
Wissenspool Beiträge
Informieren sie sich über aktuelle IT-Trends und Entwicklungen am Business Software Markt:
Weiteres IT-Wissen finden Sie in unserem IT-Wissenspool:
Softwareanbieter Webcasts
Eine Auswahl von Webcasts (Video Podcasts) zum Thema Business Software und Geschäftsanwendungen in verschiedenen Sprachen.

Die Business-Software-Webcasts unserer Anbieter können Sie nur ansehen wenn Sie den Flashplayer von www.adobe.de installieren.