ERP with embedded CRM (246 KB)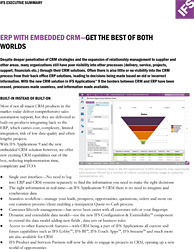 Despite deeper penetration of CRM strategies and the expansion of relationship management to supplier and other areas, many organizations still have poor visibility into other processes (delivery, service, projects, support, financials etc.) through their CRM solutions. Often there is also little or no visibility into the CRM process from their back office ERP solutions, leading to decisions being made based on old or incorrect information. With the new CRM solution in IFS Applications™ 9 the borders between CRM and ERP have been erased, processes made seamless, and information made available.
IFS Deutschland GmbH & Co. KG Whitepaper
Schlagwörter
Seiteninterne Suche auf SoftSelect.de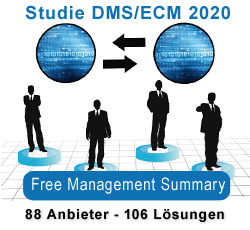 Wir beraten Sie gern!
Bitte zögern Sie nicht, uns mit Fragen jeglicher Art oder Feedback zu kontaktieren:


E-Mail:: info@softselect.de
Telefon:: +49 (0)40 870 875-0
Telefax:: +49 (0)40 870 875-55
Wir freuen uns auf Sie!
Wissenspool Beiträge
Informieren sie sich über aktuelle IT-Trends und Entwicklungen am Business Software Markt:
Weiteres IT-Wissen finden Sie in unserem IT-Wissenspool:
Softwareanbieter Webcasts
Eine Auswahl von Webcasts (Video Podcasts) zum Thema Business Software und Geschäftsanwendungen in verschiedenen Sprachen.

Die Business-Software-Webcasts unserer Anbieter können Sie nur ansehen wenn Sie den Flashplayer von www.adobe.de installieren.