IFS and HOIST launch FLEXPLUS Enterprise Applications Services
IFS, the global enterprise applications company, has today announced that it has partnered with HOIST, already a strategic partner in the IFS Ecosystem, to develop and deliver a mid-market specialised service offering to help further drive customer satisfaction in the IFS ecosystem.
Mid-size companies are also under pressure to modernize their systems and build new capabilities to keep innovating and accelerate speed to market. With a focus on business value, these companies typically have limited IT capacity and capability, especially for business applications. The goal for FLEXPLUS is to ensure that, regardless of their own capabilities, customers are realising value along the journey. Specifically, the new service reduces their need for internal expertise to deal with Level 1 and Level 2 issues and will provide faster time to resolution and in turn reduced impact on business.
As well as increasing value and accelerating the time to value from their investment in IFS, with this service customers will gain additional services such as training data management, application housekeeping, reporting, managed services and more. As a strategic IFS Partner, HOIST is committing to invest to maintain and develop capabilities, in line with IFS solution developments, therefore reducing the customer overheads associated with this.
FLEXPLUS is a flexible lifecycle support program offered to IFS mid-size customers worldwide, particularly tailored toward customers that require a high touch, low volume engagement with IFS experts. It provides an application service to more customers in their time zones and in a number of local languages, driving higher adoption and a more effective evolution of the solution in line with business expectations (the path to Evergreen).
IFS Chief Customer Officer, Mark Moffat, commented: "It is part of our DNA at IFS to drive not just value, but a choice of engagement models for our customers; the partnership FLEXPLUS with HOIST is an essential addition to our portfolio. Our partnership with HOIST has grown and matured over many years and we are looking forward to working closely together to fulfil the needs of many of our customers in a new context".
CEO & Co-Founder of HOIST, Nick Mezher Added: "At HOIST, our focus is always to explore new ways of enhancing the user/customer experience. We are grateful and proud of the strong working relationship we've built with IFS over the years, and we are excited to now be able to extend our services through FLEXPLUS with IFS' collaboration and support. Through our values of commitment, collaboration, and continuous growth, we hope to continue to provide top quality service to our customers and look forward to expanding our relationship with IFS and IFS Customers."
More Informations about IFS GmbH
Artikel vom 13.06.2023
Seiteninterne Suche auf SoftSelect.de
Anbieter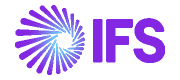 Dieser Artikel wurde veröffentlicht von:
IFS Germany GmbH