Nordic Paper upgrades to IFS Cloud to drive operational efficiencies and support dynamic growth
IFS solution will help specialty paper manufacturer enhance security, maximize uptime and strengthen maintenance.
IFS, the global cloud enterprise software company, today announced that Sweden-based speciality paper manufacturer, Nordic Paper, has decided to upgrade its existing on-premise enterprise asset management (EAM) software to the latest IFS Cloud™️ solution to drive efficiencies across its global operations. The upgrade will be implemented by IFS channel partner, Novacura, which is also based in Sweden.

The implementation of IFS Cloud will support the digitalisation of operations at Nordic Paper, helping the manufacturer to maximise uptime, enhance security and strengthen maintenance at its Scandinavian paper mills.

Migrating to IFS Cloud will also provide Nordic Paper with a sustainable platform for future growth. The flexibility and agility of the software will enable the company to stay 'evergreen', seamlessly adapting to deliver solutions that are tailored and relevant to its target audiences.

Patric Johansson, IT Manager, Nordic Paper, said: "We were looking for an enterprise asset management solution that delivered enhanced security and operational efficiencies. While we considered other options, IFS Cloud was the intuitive choice.

"We have a long-standing, trust-based relationship with IFS, and we have always been impressed with the quality of their solutions and in-depth expertise in the pulp and paper industry. We are confident that IFS Cloud can play a key role in supporting our ambitions and in ensuring we get our paper products to market quickly and cost-effectively to deliver an optimum customer experience."

Ann-Kristin Sander, managing director, Nordics, IFS said: "Nordic Paper is focused on digitalisation and growth. We are proud that they have chosen to extend the long-term relationship we have built together by implementing IFS Cloud and are looking forward to working with them and take their speciality paper offering to the next level."

The solution provides functionality leveraged by a total of 400 users, based either at the manufacturer's headquarters in Karlstad, Sweden or at one of the company's paper mills in Scandinavia. Nordic Paper is making use of a wide range of integrated modules that are available within IFS Cloud, including Maintenance; Finance; and Procurement.
For more Information about IFS Deutschland GmbH
Artikel vom 13.07.2022
Schlagwörter: Sicherheit, Digitalisierung
Seiteninterne Suche auf SoftSelect.de
Anbieter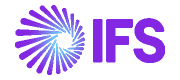 Dieser Artikel wurde veröffentlicht von:
IFS Germany GmbH