IFS selects InfoConsulting as Exclusive Distributor across South Asia
IFS, the global cloud enterprise software company, today announced it has entered into an exclusive distribution agreement with InfoConsulting across South Asia (namely Sri Lanka, Bangladesh and Pakistan). InfoConsulting will be empowered to grow IFS's presence in this market as IFS's lead partner.
IFS is committed to a partner-first model that sees IFS working closely with partners to address customer needs and to expand the IFS footprint. IFS's market-leading cloud applications and services enable customers to leverage automation and business intelligence to better understand key challenges across their operations, work more efficiently and increase productivity.
Under this strategic partnership, InfoConsulting will be an exclusive distributor and will offer services to IFS customers from business consulting, technical development and IFS support. This will occur through a global support program that already provides support to over 20,000 IFS end users.InfoConsulting's investment and focus in South Asia will enable customers to achieve value, and complement the capabilities provided by the partner ecosystem.
"Like IFS, we are committed to delivering value to customers with IFS's cloud applications, through a great customer experience. This agreement follows the success of partnerships in Europe, Australia and New Zealand, where we are enabling customers to achieve the business outcomes of their digital transformation with IFS. We are looking forward to working with current and future IFS customers and partners across South Asia to achieve their goals too," said Mr Miroslaw Kaminski, Head of InfoConsulting.
Furthermore, this partnership extends beyond software and services. InfoConsulting's selection as the exclusive distributor is based on their strong alignment and shared values with IFS. Both organizations are committed to delivering exceptional customer experiences and driving tangible business outcomes and InfoConsulting has a proven track record having been recognized by IFS customers with the global IFS Customer Choice Partner of the Year Award 2022.
"This agreement builds upon an established relationship with InfoConsulting in South Asia. It will provide both organizations with strong alignment on our best-in-class enterprise software solutions to build upon a partner-first business model and accelerate our reach across South Asia, helping enterprises achieve optimized business performance," said Vincent Carvalho, IFS Regional President, APJ, ME&A.
More Information about IFS GmbH
Artikel vom 07.08.2023
Schlagwörter: Business Intelligence, CAD, Cloud, Cloud Lösung
Seiteninterne Suche auf SoftSelect.de
Anbieter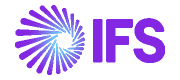 Dieser Artikel wurde veröffentlicht von:
IFS Germany GmbH