HEXPOL Engineered Products Upgrades to IFS Cloud to streamline order management and support sustainability
Upgrade to IFS Cloud will deliver financial, supply chain and manufacturing capability, enabling Sweden-based HEXPOL Engineered Products to meet customer expectations and build a competitive edge
IFS, the global cloud enterprise software company, today announced that leading international gasket, seals and wheels for material handling supplier, HEXPOL Engineered Products, has decided to upgrade to the latest IFS CloudTM solution to help streamline manufacturing processes and enhance sustainability. The software solution will be deployed across HEXPOL Engineered Products.
Migrating to the solution will enable HEXPOL to navigate complex supply chain challenges, while improving their ability to meet customer expectations of short lead times from order to shipment.
Gabriela Karlsson, Financial Director and Chief Information Officer, HEXPOL Engineered Products, said: "The industry we operate in is highly competitive. We need enhanced visibility over all our processes, together with the ability to optimize processes to keep ahead of the pack and retain our leadership position in the industry. By upgrading to IFS Cloud, we will have an improved oversight into all company transactions and shipments as well as faster and easier access to our performance data - and all this is delivered via easy-to-use reporting dashboards. We are confident that this will, in turn, give us faster time to insight and better return on our capital employed."
When the upgrade is complete, a total of 350 users will utilize IFS Cloud across HEXPOL Engineered Products' seven production plants (two in Sweden, two in China, two in Sri Lanka and one in the US) as well as in its distribution centers in Germany and the US. IFS Cloud's multi-site functionality allows HEXPOL to run a single ERP system across all sites, enabling it to lower its IT costs.
Ann-Kristin Sander, Managing Director of Nordics at IFS, said: "The business challenges HEXPOL is facing today are familiar to all multinational, multi-site businesses operating in highly competitive environments with complex supply chains. Meeting customer expectations of short lead times from order to shipment is a major challenge when production lead times are long. We are confident that using IFS Cloud will enable HEXPOL to cut costs and drive efficiencies while at the same time becoming even better at meeting expectations and delivering their Moment of Service to customers."
Upgrading to IFS Cloud will also enable HEXPOL to easily access a range of tools to track the company's environmental impact, an area of increasing focus for the global manufacturing industry. IFS Cloud functionality will support HEXPOL in achieving its environmental, social, and governance (ESG) goals by providing it with the data it needs to drive its ESG projects. The solution will also enable them to show progress against environmental commitments while simultaneously demonstrating accountability and transparency.
HEXPOL uses the Finance, Supply Chain, Manufacturing, CRM, HR, Procurement, Asset and Recipe Management modules in IFS. Through the upgraded Finance module, IFS Cloud will provide extended functionality from a multi-currency capability to Microsoft Power BI reporting dashboards. Furthermore, the supply chain module offers HEXPOL greater efficiency in supply chain management with improved visibility over every step, while the recipe management capability ensures it will obtain the blend of materials used in the production process is accurate.
With the upgrade to IFS Cloud, HEXPOL will also benefit from the twice-yearly releases of new features and capabilities, along with monthly service updates containing fixes and security patches, enabling it to remain consistently evergreen and up-to-date.
The upgrade implementation project will be overseen by IFS's partner Addovation, which has also, for many years, been a close services partner of HEXPOL Engineered Products.
About HEXPOL Engineered Products
Part of the HEXPOL Group, HEXPOL Engineered Products is a key player in the market for rubber gaskets used in plate heat exchangers, seals and wheels for the material handling industry. Within these specialised areas, HEXPOL is one of the few major companies with a truly global presence.
The company's offer is comprised of two distinct product brands:
Gislaved Gummi (gaskets and seals)
Stellana (wheels)
HEXPOL Engineered Products' customers are usually major global OEM manufacturers with market leading positions and for whom HEXPOL's products are frequently of vital importance for the quality and service life of the finished product. Technical competency and long-term relations are of major importance for both parties. For more information, please visit the company's website.
Weitere Informationen zu IFS
Artikel vom 21.03.2023
Seiteninterne Suche auf SoftSelect.de
Anbieter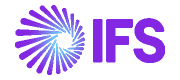 Dieser Artikel wurde veröffentlicht von:
IFS Germany GmbH