Business Software Selection
Software Vendors
Software Consulting
Market Research

IT News
E-Mail: info@softselect.de
amball business-software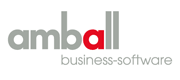 IT-Lösungen für den Mittelstand
amball business-software ist ein international tätiges Systemhaus und gehört als Gold Certified Partner zu den TOP-Partnern von Microsoft Business Solutions. Im Rahmen eines Full-Service-Konzeptes berät und betreut amball seine Kunden in den Bereichen Unternehmens-Software, Business Intelligence, CRM und Enterprise Content Management. Geschäftsschwerpunkt ist die Implementierung der ERP-Software Microsoft Dynamics NAV (Navision) im Mittelstand. Unsere Branchenlösungen werden von erfahrenen Mitarbeitern mit entsprechender Branchenexpertise betreut. Unser Ziel ist Ihr Erfolg.
Aufgrund der langjährigen Erfahrungen unserer Berater und mit Hilfe unserer Beratungsmethodik definieren wir gemeinsam mit den Kunden deren Sollprozesse und schaffen so die Basis für eine erfolgreiche Softwareeinführung. Wir wissen, dass es für den Unternehmenserfolg ganz entscheidend ist, wie effizient die eingesetzte Informationstechnologie genutzt wird. Um dies zu gewährleisten, bieten wir ein auf die individuellen Anforderungen abgestimmtes Schulungsprogramm an. Nach der Inbetriebnahme werden Sie durch unseren Customer Service betreut. Kompetente Mitarbeiter stehen Ihnen zu vertraglich vereinbarten Reaktionszeiten mit Rat und Tat zur Seite.
amball bietet umfassende integrierte Branchenlösungen auf Basis von Microsoft Dynamics NAV (ehemals Navision) für folgende Branchen bzw. Bereiche an:
Auftragsfertigung und Projektfertigung
Getränkehandel, Getränkeindustrie, Brauereien
Ingenieurdienstleister und Architekturbüros
Maschinenbau und Anlagenbau
Messebau
Projektabwicklung und -controlling
Qualitätssicherung
Products
Microsoft Dynamics NAV (IT-Technology, ERP)
amProduction für die Auftragsfertigung und Projektfertigung (ERP)
Microsoft Dynamics CRM für den Maschinen-, und Anlagenbau (CRM)
amProject für den Maschinenbau und Anlagenbau (ERP)
Business Intelligence Lösungen von amball (BI)
amProject Cube für den Maschinenbau und Anlagenbau (BI)
Microsoft Dynamics CRM (CRM)
amProject ECM - Digitale Projektakte (DMS)
SharePoint-NAV-Connector (DMS)
Zetadocs for NAV (DMS)

Related Studies
Human Resources 2009
Automatic recruiting, management ratios, employee portals, electronic performance analysis and digital personnel records: The modernisation of personnel work proceeds and is continually being supported by new software and services. SoftSelect GmbH, based in Hamburg, Germany offers IT decision makers established help and current trends with the "SoftTrend study 257 - Human Resources Software".
ERP-Software 2008
Manufacturers of ERP Software products have caused a lot of forward movement with new software architectures, target-oriented segment-packages and innovative concepts on the german market. However, which system fits which company best? This and many other questions are the core of the current SoftTrend study 253 "ERP Software 2008". Users will find an established insight into current developments as well as practical tips to help with the decision making.

SoftSelect GmbH, a consulting company based in Hamburg has released the newest edition of the SoftTrend Studie 253 on "ERP Software 2008", regularly updated market research on software deployment in the ERP field. Both german and international orientated manufacturers of ERP and OEM solutions of Accounting solutions were observed. A total of 67 system suppliers with 71 solutions have taken part in this years study. The aim of the study is to give users a summary on the technological status quo of existing solutions as well as light the way for the future.
SoftSelect Website Search
Contact Information
amball business-software
Nordostpark 12-14
P.O. Box 12-14
90411 Nürnberg
Deutschland
Tel. 0911/527970
Fax. 0911/5279750
Email info@amball.de
Internet www.amball.de
Supplier Information
Headquarters: Nürnberg
Founded: 1981
Subsidiaries: 0
Revenue Last Year: 9,56
Full Employees: 112
Fulltime Programmers: 30
Freelance Programmers: 0
Hotline Employees: 15
Distribution Network: Yes Distribution Partners: 2
Bank Enquiry: No
Supplier Downloads

Firmenbroschüre - am... (386 KB)


Microsoft Dynamics NAV (921 KB)


amProject für Maschi... (1 MB)


amProject Projektabw... (1 MB)


amProject für den Me... (1 MB)


Argumente für Micros... (187 KB)


amProject ECM - Digi... (504 KB)


amDrink für Brauerei... (532 KB)


amProject für Ingeni... (1 MB)


Microsoft Dynamics N... (1 MB)