Business Software Selection
Software Vendors
Software Consulting
Market Research

IT News
E-Mail: info@softselect.de
ALPHA Business Solutions AG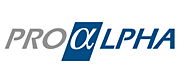 Die ALPHA Business Solutions AG ist einer der führenden unabhängigen Spezialisten für Geschäftsprozess­optimierung und Einführung von ERP-Software in Deutschland. Als mittelständisch orientierter Full-Service-Dienstleister mit Hauptsitz in Kaiserslautern hat das Unternehmen bereits mehr als 380 ERP-Projekte für über 1.300 Unternehmen realisiert.
Zum Lösungsportfolio zählt die ERP-Komplettlösung proALPHA mit zahlreichen eigen entwickelten Branchenerweiterungen und Add-ons. Seit 2010 ist ALPHA Business Solutions zudem SAP-Partner und Solution Reseller für die On-Demand-Lösung SAP Business ByDesign. Im Jahr 2012 erwirtschaftete das 1994 gegründete Unternehmen mit durchschnittlich 150 Mitarbeitern einen Umsatz von rund 20,3 Millionen Euro.
Impressum: http://www.abs-ag.de/de/impressum/impressum.html
Products
proALPHA (DMS, E-Business, BI, Service Management, HR, CRM, ERP)
ABS-Unternehmenscockpit (BI)
SAP Business ByDesign (ERP)

Related Studies
ERP Studie 2013 - ERP Software

ERP Studie 2012 - Enterprise Resource Planning

IT-Technologie 2009
The SoftTrend study 258 analyses the technological state of ERP and Finance systems. More than 40 manufacturers were asked what technology their business applications are based on. The development concepts Multi-tier Architecture and Object-Oriented Programming prevailed and eased service.
Human Resources 2009
Automatic recruiting, management ratios, employee portals, electronic performance analysis and digital personnel records: The modernisation of personnel work proceeds and is continually being supported by new software and services. SoftSelect GmbH, based in Hamburg, Germany offers IT decision makers established help and current trends with the "SoftTrend study 257 - Human Resources Software".
CRM Studie 2008 - Customer Relationship Management
Subjects such as customer orientation improvement, construction of an active relationship-management or the use of sales, distribution and service to their full potential have been on every companies agenda for many years. Product quality and Customer orientation, particularly in high-wage countries, have advanced to critical competitive factors. However there is more often than not a long, hard journey between awareness and implementation. In the past, we had insufficient conviction or scepis regarding CRM tools on the one side and the reluctance to invest on the other stood in the way of a thorough examination on the subject of CRM. Especially middle-sized businesses should try and do away with this reluctance, especially as the interest with IT projects is based on optimising the process landscape and improving the cost structure with cross-area workflow.

SoftSelect GmbH, a consulting company based in Hamburg has released a study on the subject of Customer Relationship Management 2008, whereby 40 suppliers software solutions where closely looked at and informs which trends have emerged, where improvement would be welcomed and helpful user tips.
Rechnungswesen 2008
The market for accounting software has not only been marked by consolidation tendencies in recent years, where ERP suppliers have increased their product range with OEM solutions for HR, Controlling, BI and Accounting. Additionally, a multitude of functionality and in particular further technological advances (e.g. Java-based, SOA or Web access) are focussed upon. SoftSelect GmbH, a consulting company based in Hamburg has released a study on the subject of Accounting 2008, whereby 60 software solutions from 55 system suppliers where closely looked at and informs which trends have emerged, where improvement would be welcomed and helpful user tips.
ERP-Software 2008
Manufacturers of ERP Software products have caused a lot of forward movement with new software architectures, target-oriented segment-packages and innovative concepts on the german market. However, which system fits which company best? This and many other questions are the core of the current SoftTrend study 253 "ERP Software 2008". Users will find an established insight into current developments as well as practical tips to help with the decision making.

SoftSelect GmbH, a consulting company based in Hamburg has released the newest edition of the SoftTrend Studie 253 on "ERP Software 2008", regularly updated market research on software deployment in the ERP field. Both german and international orientated manufacturers of ERP and OEM solutions of Accounting solutions were observed. A total of 67 system suppliers with 71 solutions have taken part in this years study. The aim of the study is to give users a summary on the technological status quo of existing solutions as well as light the way for the future.
The consulting company SoftSelect GmbH will release the SoftTrend Study 251 - Human Resources during the "Zukunft Personal 2007" trade fair. The study will cover a market survey of solutions. Market trends in personnel software solutions, as well as information on developments at a functional level, giving companies that are currently looking for a fitting software a helping hand with research.
The SoftSelect GmbH has been offering its SoftTrend studies since 1994, allowing companies initial guidance in finding the correct software. IT decisions in personnel are becoming more important because of increasing costs and the pressure from competition. In the practice considerable potential slumbers in the process chain, that can be significantly more efficient with the assistance of a fitting solution or a module. The management ratios in Personnel Controlling offer an important addition for collecting labour cost indices, efficiency evaluation, chances and risks in the personnel work or to prevent bottlenecks during staff appointment planning. Additionally the creation of qualification profiles, leave and sickness statistics, personnel development analyis or variance comparison ease and optimise personnel placement planning.
The SoftTrend study 251 examines relevant solution providers as well as functionality trends and developments. The analysis presents HR systems, ERP suppliers with integrated HR modules and suppliers with special focus on the following areas:
A total of 54 companies with 65 solutions have taken part in the SoftTrend study 251 Human Resources 2007. The study can be ordered from our website and is currently only available in German.
SoftSelect Website Search
Contact Information
ALPHA Business Solutions AG
Brüsseler Str. 5
67657 Kaiserslautern
Deutschland
Tel. 0631/303 47 - 0
Fax. 0631/303 47 - 399
Email info@abs-ag.de
Internet www.abs-ag.de
Supplier Information
Headquarters: Kaiserslautern
Founded: 1994
Subsidiaries: 5
Revenue Last Year: 20,3
Full Employees: 150
Fulltime Programmers: 40
Distribution Network: Yes Distribution Partners: 2
Bank Enquiry: Yes
Supplier Downloads

ALPHA Business Solut... (2 MB)


proALPHA ERP Komplet... (227 KB)


SAP Business ByDesin... (572 KB)


ABS-Unternehmenscockpit (338 KB)