SoftTrend IT News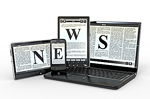 A total of 70 SoftTrend IT articles online. You are currently on page 1 of 7.
Listings per page- 10 25 50 100
<< previous | 1 | 2 | 3 | 4 | 5 | 6 | 7 next >>
SAP NEWSBYTE - At December 12 SAP announced the pre-assembled version of the SAP HANA® Customer Activity Repository rapid-deployment solution to simplify the implementation of this multichannel data application in the cloud.

The Comarch Group has won the main prize in the Polish Company – International Champion competition in the category Exporter, the Polish Privately Owned Company. The third edition of this competition was organized by the PwC and the economic daily Puls Biznesu in cooperation with the Polish bank PKO BP and the National Bank of Poland (NBP).

ELO Digital Office now also offers its users a Blackberry app in addition to a version for Apple iOS and Android. ELO Digital Office decided to develop the Blackberry app due to popular demand from customers and partners. The ELO ECM app is now available for download from Blackberry World.

IFS, the global enterprise applications company, announces that Sun International, one of Africa's leading gaming and leisure brands which is focused on the development, management and operation of casinos, hotels and resorts in South Africa, other parts of Africa as well as in Latin America, has chosen IFS Applications 8™ as its central enterprise resource planning (ERP) system.

Engineered System Optimized for Running Business Applications; Delivers Groundbreaking Innovations to Help Customers Reduce Cost and Complexity, Eliminate Business Risk and Seize New Market Opportunities

As the pain and expenses associated with global business travel continue to increase, companies and business people alike are seeking effective and integrated software to help simplify the end-to-end process. SAP AG today announced new cooperation with partners and solution providers and increased availability of the SAP Travel...



Microsoft Dynamics CRM Online becomes first cloud CRM service to register with CSA STAR. Microsoft Corp. (Nasdaq "MSFT") today announced the availability of the Microsoft Dynamics CRM Online Trust Center, a website that provides in-depth information about the privacy and security practices for the Microsoft Dynamics CRM Online service.

ABAS Force China attends the 16th China International Software Expo in Beijing. The Software Expo is an important annual event for the Chinese software and IT services industry.


ADP to Help Establish Human Capital Management Industry's First Time and Labor Management Professional Certification



Business Driven IT-Management Helps Global Health Care Company Launch New Private and Public Cloud Services to Increase IT Efficiency and Optimize Business Value


<< previous | 1 | 2 | 3 | 4 | 5 | 6 | 7 next >>